Ongoing technology training for employees offers a variety of benefits. You may relate employee training to topics such as customer service, workplace harassment, ethics, and safety. But, with the ever-evolving technological advancements and fast-paced adoption of technologies post-pandemic, it's time to include business software and technical skills to your employee training program.
You're thinking, "We haven't changed our programs or systems, so why do we need training?" Good question. According to a research report by CoreView, an average of 56% of a business's Microsoft Office 365 licenses are inactive, underutilized, oversized or unassigned." It's no surprise that Microsoft Office is the most commonly used software app of customers and businesses. If the average business employee is underutilizing this long-established and highly adopted program, consider what the underutilization rate is of your other company systems. Likely, it's very high, and as a result, it's costing you money.
Initial Software Training Isn't Enough
Why are your employees missing the mark on maximizing the tools available to them? The answer is lack of training. Typically, when a new software system is implemented, your business participates in an initial one- to three-hour training session over the span of one to three days. This seems like a large investment of time from your organization and should net you a high reward, but it's not accurate to assume that your employees are now expert users. Learning the basic functions of a program in an initial training is not enough. "It's not going to happen overnight. It usually takes six months or more to develop a new skill," says Joseph Weintraub, a professor of management and organizational behavior at Babson College and coauthor of the book, The Coaching Manager: Developing Top Talent in Business.
Break Down Technology Barriers For Your Employees
An ongoing training and software management policy is imperative to ensure your business is getting the most out of your technology investments. When asked to select what barriers to using legal technologies exist at their organizations, respondents to Bloomberg Law's 2021 Legal Technology Survey indicated that the top obstacles are a lack of tech savvy, a lack of familiarity with available technology, and not enough time to learn technology. The survey also found that those who have logged more training time were three times more likely to report having no barriers than those with less than one hour of training.  The key to knocking down the technology barriers in your business is to start with a strong initial training, followed by subsequent trainings over the next six (6) to twelve (12) months. This ensures that your employee's learning goes beyond understanding basic functions and expands to implementing best practices that uniquely fits the needs of your organization.
Benefits of an Ongoing Technology Training Program
Still unsure if a technology training program is necessary for your business? Here are five (5) reasons you need to do it:
Increased Security
You may have heard the term "shadow IT" floating around the internet. That's because it's a real danger to your business. Forcepoint describes shadow IT as the use of information technology systems, devices, software, applications, and services without explicit IT department approval. While there are a few positives to shadow IT such as driving employee innovation, it also poses a huge security risk to your organization through data leaks, compliance violations, and more.
The primary reason your employees revert to shadow IT is because they believe it allows them to work more efficiently. An employee who experiences frustrations and lacks confidence in using your organization's existing technology will either return to a more familiar legacy program, if available, or they will seek their own solutions. The employee believes they are doing right by the business by identifying an efficient method to get their job done. However, the risk to your business cannot be understated. If your IT doesn't know of an application or software that's being used, they can't support it or ensure that it's secure. This leaves both your business data and your customer's information at risk. In today's cyber environment, this is a risk you can't afford.
Maximize Your Return on Investment (ROI) From Your Technology Systems
When your employees aren't fully educated and well-versed on your business's technology systems, it's inevitable that you won't get the most out of your investment. Looking again at Microsoft Office 365, a primary example of underutilization is the lack of leveraging the associated apps that are built within the program. The bottom line is, if your employees don't know these applications exist, how can they use them? Or, if they know they exist but don't understand how they apply to their everyday work tasks, they will continue to ignore them, leaving your greater ROI opportunity sitting on the table. Even worse, you may have purchased multiple software programs that perform similar functionalities because you and your employees weren't aware of the tools and functionalities you had to begin with, further reducing your technology ROI.
Maintain Employee Knowledge
Possibly, one of the greatest benefits of an ongoing technology training program is maintaining employee knowledge. Transference and preservation of business knowledge is an integral part of a healthy organization. Once you have identified and developed the rock-star tech employee of your business, allow them to be the gift that keeps on giving. Their expertise not only lies with how to use the business's programs, but they also understand best practices when applying the system's functionalities to the specific needs of your organization. It is vital that you protect this knowledge and duplicate it throughout your business, ensuring it is preserved and lives outside of a single individual. Helping to train others is also a confidence booster and provides a sense of purpose for many employees, making them feel valued within your organization.
Increased Employee Morale
When your employees are provided an opportunity to improve their skills and gain knowledge, they will also experience increased morale. Because they have a deeper level of understanding of your business's technology, they will also experience a greater level of appreciation for your overall investment. They will feel equipped and empowered to do their jobs with the tools you've provided them. This has a strong impact on employee retention within your organization.
Increased Competitive Advantage
Proficient and happy employees result in happy customers, period. When your employees are fully equipped to handle their jobs and tasks with the technology they have on hand, your productivity increases, and your customers reap the benefits. Better yet, your bottom-line benefits from this increase in efficiency, providing you with an edge over your competitors. Any business can purchase a new piece of software, but only the business that takes the most advantage of the technology will stay a step above the rest.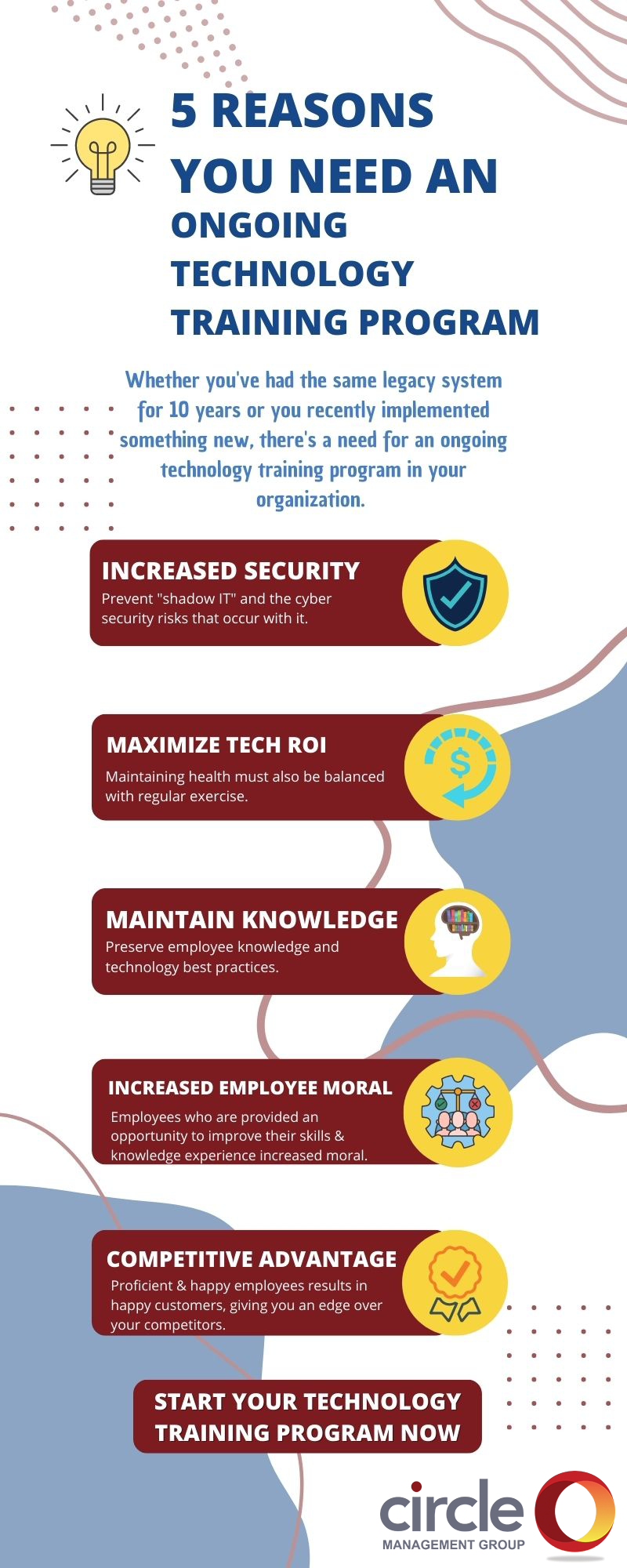 Take Control of the Technology in Your Business Today
The world has evolved greatly over the last few years. Technology, and the way it's used, has evolved with it. If you are not looking for ways to improve your business processes and procedures, whether it's to improve the usage of your existing tech or seeking to implement new, you're leaving money on the table and giving your competitors an opportunity to get ahead. Don't wait, start planning your ongoing technology training program now.
Circle Management Group's Consulting and Training Assistance
We believe in partnering with legal firms, corporations, and government organizations to fully understand their needs prior to providing any software solutions or training program advice. As an unbiased, vendor-agnostic consulting firm, Circle Management Group seeks to understand before seeking to solve. Individually and collectively, our team of professionals boasts decades of tech experience which uniquely qualifies us to evaluate your tech stack and tech training programs. Our philosophy ensures you receive custom solutions with your best interests in mind.
Learn how Circle Management Group can help — contact us today!