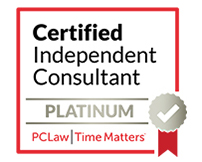 The modern legal practice faces numerous challenges, but none is so significant as an inability to track time and expenses accurately. Simply put, if you lack good time-management skills, the ability to track and analyze time spent, or the means to maximize your billable hours, you could be losing profit without even realizing it. We can help. We connect our clients with innovative software that helps solve their unique challenges, including time-tracking software. One of the software suites we often recommend is Time Matters.
Is this time-tracking solution right for your needs?
Time Matters is a time-tracking software suite with a 30-year history, but it does much more than simply allow you to enter billable hours. It is a robust solution for practices struggling with efficiency and information overload, and offers the ability to automate workflows to increase productivity while maximizing firm profitability. The key to running a successful practice today is in the details, and that is where Time Matters excels. It delivers granular insight into key areas of your practice, while making it simple and easy to ensure accurate time tracking, expense reporting, and task management.
Not sure if Time Matters is the right time-tracking software for your practice? While we recommend this suite for many clients, there are other options available. Our in-depth workflow analysis can help determine your specific requirements, and we can suggest the right software for your specific practice.
Advantages Offered by This Time-Tracking Software
Time Matters delivers a number of key advantages for your practice, helping to create a competitive edge and ensure maximum billable hours. For instance, the suite offers the ability to automate common workflows that consume time without delivering profit. Not only does that free up more time to spend with your clients, but it also helps to reduce errors and ensure better accuracy across your practice.
Time Matters also helps in the battle against information overload. Today's practice is inundated with data – emails, calendar item, case files, research information, and more. Managing that data can be impossible, but Time Matters can help by centralizing all that information and then making it searchable by topic and keyword.
You will also find that the Time Matters Mobility function enables better flexibility and service to your clients by allowing you to respond more quickly to client needs, even when you're not in the office. Of course, the software's ability to track and capture billable hours and simplify the process of expense recording is the foundation on which all other features are built. Never worry that you're missing billable time, or that you've neglected an expense deduction again.
Key Capabilities Delivered through Time Matters
Benefiting from the advantages offered by Time Matters hinges on the software's key capabilities. You'll find a host of abilities here, all of which go into helping your practice run smoother and more profitably.
Streamline Workflows: One of the most powerful capabilities Time Matters offers is the ability to streamline workflows. In addition to preloaded workflows, you can also customize and automate those that are specific to your practice.
Billing Accurately: Accurate billing is essential to a thriving practice, and Time Matters helps immensely. In addition to the other baked-in features, you also receive regular (weekly) email reminders about any open billing tasks, ensuring that you never leave money on the table again.
Time and Task Management: With Time Matters, you can set alerts that allow you to manage what you do and when you do it. You also gain access to exactly what you need within the centralized system with just a few clicks of your mouse.
Integration: Struggling with calendar items? Missing emails? Vital tasks left undone? Time Matters integrates with Microsoft® Outlook® to help ensure better access to your communications and that you never miss a deadline.
Information Capture and Storage: Time Matters gives you the ability to capture critical
details and store them centrally at any time, and from any location.
Is It Right for Your Practice?
Time Matters delivers critical time-tracking and management capabilities, but is it right for your practice? Our workflow analysis allows us to make accurate recommendations and help you build a more successful, profitable practice. Contact us today to schedule a consultation.